College Development Camp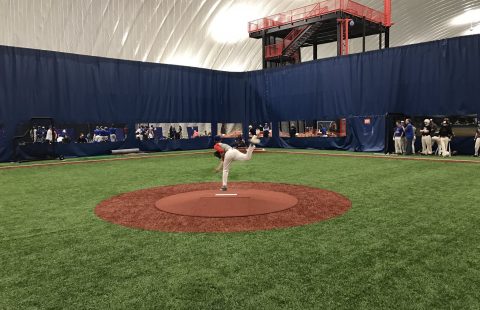 Colleges Committed to Attend
Wright St.
Holy Cross
Bucknell
Eastern Michigan
Eastern Illinois
Central Michigan
Toledo
Harvard
Middle Tennessee State
Memphis
Evansville
Xavier
Eastern Kentucky
Oakland
List updated 7/21. Will continue to update list as further College Coaches finalize plans. 
For over a decade Cangelosi Baseball at our Bo Jackson's Elite Sports facility in Lockport, IL has conducted one of the top camps that blends instruction by D-I College coaches with showcasing to College coaches of all levels. The camp has proven to be a great conduit for players to be recruited by the coaches who attend. This camp has always been held in January, HOWEVER, the NCAA has made a change to the recruiting calendar for coaches, which means the event will now be held at the end of the fall. Players will benefit because they will be in better shape to been seen by college coaches at the end of the fall instead of in the winter. We are excited to offer the College Development Camp to Central Ohio at our Bo Jackson's Elite Sports facility in Hilliard, Ohio too. 
DETAILS:
30 Division I coaches instruct at the camp
Scouted by many coaches from D-II, D-III, NAIA and Junior Colleges
Registration gives the athlete two sessions (1 each weekend) same format each weekend, different college coaches.
No other camp provides you with such direct access to college coaches
NO REFUNDS
The camp is open to any and all entrants limited only by number, gender and age
AGES:
Open to all High School Aged Players
WHEN:
October 13-15 and October 20-22
Location:
Bo Jackson's Elite Sports, Hilliard, Ohio
4696 Cosgray Road, Hilliard, Ohio 43026
PRICING:
$350 per Positional Player
$150 per Pitcher Only
$450 for a combo player (Positional Player who also wants to Pitch in front of the coaches)
DETAILS:
30 Division I coaches instruct at the camp
Scouted by many coaches from D-II, D-III, NAIA and Junior Colleges
Registration gives the athlete two sessions (1 each weekend each) same format each weekend, different college coaches.
No other camp provides you with such direct access to college coaches
NO REFUNDS
The camp is open to any and all entrants limited only by number, gender and age