All-Sports Summer Camp 2017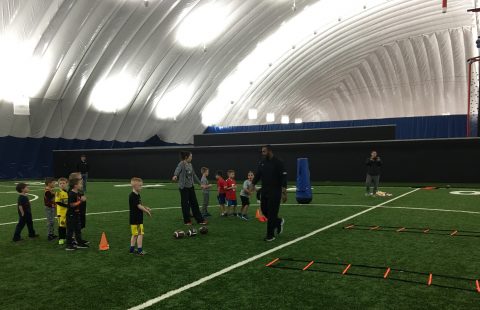 Weeks Available
Week 1  June 5-9
Week 2  June 12-16
Week 3  June 19-23
Week 4  June 26-30
Week 5  July 3-7  *No camp JULY 4
Week 6  July 10-14
Week 7  July 17-21
Week 8  July 24-28
Week 9  July 31-Aug 4
Week 10 Aug 7-11
All-Sports Camp Offers Fun Summer Options For Boys & Girls Ages 5-13!
In today's fast-paced and competitive world, we hear the phrase, "Kids need some time to just be kids"…..and we agree! The All-Sport camps will give kids exposure to a variety of sports and activities with enough structure to keep them organized, but enough freedom for them to be creative and have some fun like "when we were kids!" BJES offers a professional and safe environment where a parent can be confident that their son or daughter will be monitored from check in to check out each day, and that they will be around positive people in a respectful atmosphere.
Sports Activities Include: Wiffleball, Kickball, Dodgeball, Touch Football
Play Activities Include: Arts & Crafts, Capture the Flag, Scatter Dodge, Water Balloon Toss, Sharks & Minnows
CAMP HOURS
Monday – Friday 9:00am – 12:00pm or 1:00pm – 4:00pm
PRICE

All-Sports 5-day Camp: $125 Guest / $112.50 Member (am or pm) or $200 for Full Day*
*Full Day: To register for a Full Day of camp, please register for both the AM and PM sessions separately.
**For multiple week registrations, please contact our front desk @ 614-528-4555

Early Drop-Off/Late Pick-Up
Early Drop-Off (8am – 9am): $20/week or $5/day
Late Pick-Up (4pm – 6pm): $25/week or $6/day
DISCOUNTS AVAILABLE
Early Registration Discount:
Register and pay in full by May 15, 2016 and receive a 10% discount!
Sibling Discounts:
Register multiple children and receive 10% off the camp price for each additional child.
Multi-week Discounts:
Register your children in 3 or more weeks of camp and receive a 10% discount off each additional week.
*TOTAL DISCOUNT CANNOT EXCEED 20%
Morning Session
9:00am -12:00pm
*For multiple week registrations, please contact our front desk @ 614-528-4555
Afternoon Session
1:00pm – 4:00pm
*For multiple week registrations, please contact our front desk @ 614-528-4555