Self Defense and Fitness training classes: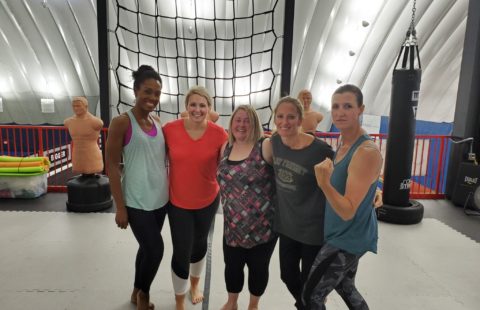 Self Defense and Corporate Wellness Classes
If group training does not meet your needs and you have friends or colleagues with similar fitness goals, we also offer customized semi-private fitness and corporate wellness programs.
Programs are individualized to your small group or corporate needs
Classes may be held in your offices or at BJES
Training in a team environment improves results and company morale
No experience necessary
To sign up, contact Mark Calahan at 614-352-1289 or email mcalahan@bjescolumbus.com
*Self Defense & Cardio Endurance courses are powered by J5 Self Defense.
Self Defense and Fitness training classes:
Self Defense classes are available for Women, Men, Children or Co-Ed. These classes will focus on striking, situational awareness and basic fundamental self defense techniques. The participants will be trained in striking on targets, de-escalation techniques as well as utilizing the Bo Jackson Centers state of the art strength training equipment. The class is for participants of all varying levels of fitness.
Features
Fundamental kicking and striking.
Speed and power training.
Situational awareness techniques.
Cardio and stamina training.
Ages: Women only, Men only and also a Junior Program
For questions or to schedule semi-private and group training, contact Mark Calahan – mcalahan@bjescolumbus.com or 614-352-1289
1 Class $20.00
10 Classes $150.00
20 Classes $200.00
Classes are approximately 1 hour in length.
For questions or to schedule semi-private and group training, contact Mark Calahan – mcalahan@bjescolumbus.com
*Drop-in Rate – $20 per visit