QB/WR/DB Camp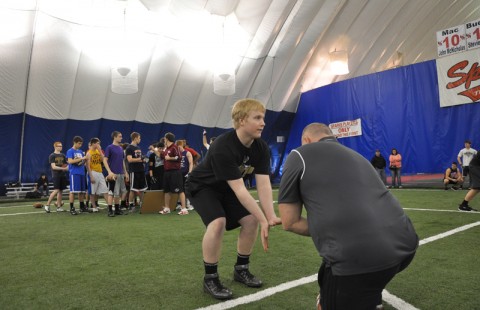 Quarterback Training led by Dak T. Britt
Wide Receiver Training led by Keith Dimmy
Defensive Back Training led by Tyler Everett
Program Focus QB/WR:
Stance
Start
Releases
Route Running
Catching Techniques
Reading Coverages
Blocking
DB's
Stance
Footwork and transition
Route recognition
Run support
Man coverage (Off man/ Press man)
Zone coverage
Coverage disguise
Defeating blocks
Offensive play recognition
Tackling
Program Format:
15 minutes of proper warms-ups
45 minutes of Position Specific Work
30 minutes of QBS and WRs together
Ages: 13U and Up 
Dates:
November 3rd – December 5th
Time: 8:00p-9:00p
Price: $250
 Quarterback
November 3rd – December 5th

Wide Receiver
November 3rd – December 5th

Defensive Back
November 3rd – December 5th

Coach Bio:
Darakatalib T. Britt:
Coach Britt played professionally for Shenzhen Naja of Global AFL where he was an All-Pro selection, Dream Team selection and leading rusher. He also played for the Billings Wolves of the IFL. Professionally, Coach Britt has been the Position (Running Backs) and Quarterback Coach for Westminster College and Quarterback Coach for Notre Dame College of Ohio.
Keith Dimmy:
Coach Dimmy has coached on the high school and collegiate levels with coaching stops at Fresno State University, West Hills College, Ohio Dominican University, Columbus South High School and Eastmoor Academy. He is a proven leader and has been a part of many championship teams as a coach and player.  Coach Dimmy is an alumnus of Eastmoor High school and The University of Minnesota where he garnered All -American and All-Big Ten Honors respectively as a player.
Tyler Everett:
Tyler Everett was born in Canton, Ohio (home of the Pro Football Hall of Fame) and attended Canton McKinley High School. He played defensive back at The Ohio State University from '02-'05 where he was a 4 year NFL Veteran and part of a National Championship team. Mr. Everett played professionally for 4 years in the NFL where he was a member of the NFC Champion Chicago Bears in Super Bowl XLI. He is passionate abut coaching young athletes and helping them unlock their untapped potential.