Bo Jackson Winter Throwing Program
home / Sports & Programs / Cangelosi Baseball / Bo Jackson Winter Throwing Program
Overview
The Bo Jackson Winter Throwing Program is focused on helping each athlete move more efficiently, gain velocity, and prepare their arms for their upcoming season. We want each athlete to feel as confident as ever as their season approaches. Athletes will accomplish this by completing a thorough evaluation of their movement patterns, strength metrics, and video analysis of their throwing mechanics in the beginning of the program.
From there each athlete will follow an individualized throwing and arm care program in a supervised group environment. The athlete's program will be designed to address weak points that are holding the athlete back.
During the on-ramp/velo program, athletes will spend the first 4 weeks preparing their arm for higher intensity throwing and addressing weak points in their throwing patterns through their individualized program. This on-ramp phase will then transition into a controlled, 4-week velocity phase where the intensity will spike.
Velocity training will then transition into 4 weeks of mound work, where athletes will apply routines from the on-ramp/velo program, while also allowing players to get on the mound and work on their arsenal.
Each session, athletes will be taken through an extensive warm-up to prepare their bodies to move efficiently and explosively, and all throwing sessions will conclude with arm care. The Program will also include soft tissue and mobility work, a pre-throw routine, an individualized throwing program, arm care, and mental coaching from the instructors.
Throughout both the 8-week on-ramp/velo and 4-week mound programs, data and video will be collected and shared with the athlete. On top of that, coaches will test and retest mobility screens, strength metrics, and video analysis of the pitching mechanics throughout the entire mound program to ensure the athlete progresses.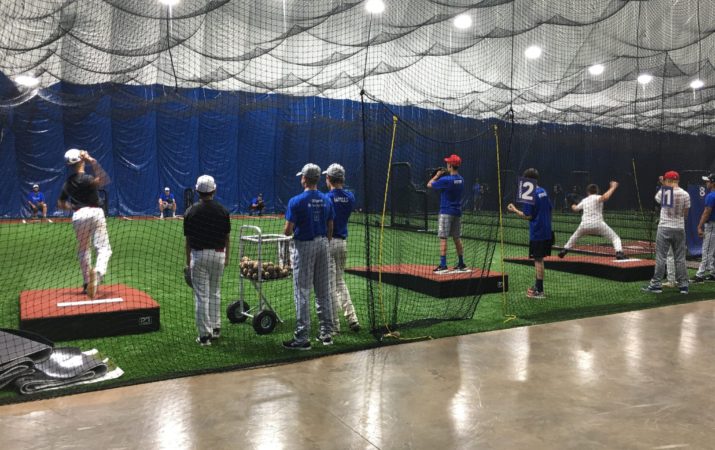 On-Ramp/Velo
On-Ramp: Focus on becoming more mechanically efficient while preparing the arm for high intensity throwing
Velocity: Use underload and overload baseballs to help create more velocity by throwing at max intent to prepare the arm for the rigors of the season. Continue to focus on moving efficiently.
Program is designed for pitchers as well as positional players.
When: Program runs Mondays and Thursdays
Dates: 11/6 – 1/11 (Off 11/23, 12/25, 12/28, 1/1)
Sessions: 16 total sessions
Time: 7:00pm-9:00pm
Price: $900
Who: High School players only
Mound
Velocity + Command. Learn to command the baseball while carrying over the high intensity from velocity training
Control what you can control…Executing quality pitches
Develop a quality pre-game routine that prepares you from pitch #1. "Third Inning Ready"
Develop a pre-pitch routine along with green, yellow, and red light routines.
Program geared specifically for pitchers. 
When: Programs runs Mondays and Thursday
Dates: 1/15 – 2/8
Weeks: 4 weeks (8 Sessions)
Time: 7:00pm-9:00pm
Price: $425