Lacorte Throwing Program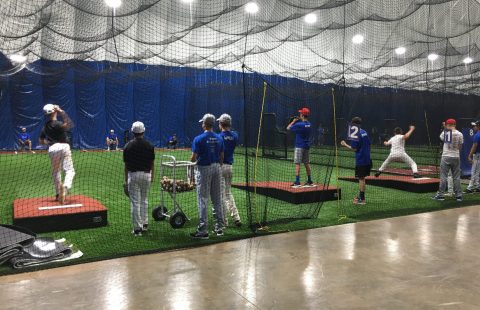 Private Lessons
Coach LaCorte is also available for Private Lessons. Contact our front desk during normal business hours to schedule one on one private lessons today – 614-528-4555
This program is focused on helping each athlete move more efficiently, feel better, throw harder and perform at a higher level than ever before. Athletes will accomplish this by completing a thorough evaluation of their movement patterns, pain assessment, and video analysis of their pitching mechanics. From there each athlete will follow a 13-week comprehensive throwing and arm care protocols to help them prepare for the upcoming season.  Athletes will spend 3-weeks preparing their arms for high intensity throwing and then will move on to 6-weeks of velocity training. Each participant will complete Coach LaCorte's research based throwing program (read here) using drills that are individual to each athletes' needs. Velocity training will then transition into 4-weeks of mound work. Each session athletes will be taken through an extensive warm-up to prepare their bodies to move efficiently and explosively and all throwing sessions will conclude with arm care and sports performance training.
On-Ramp/Velo
On-Ramp: Focus on becoming more mechanically efficient while preparing the arm for high intensity throwing
Velocity: Use underload and overload baseballs to help create more velocity by throwing at max intent to prepare the arm for the rigors of the season. Continue to focus on moving efficiently.
Program runs Mondays and Thursdays November 8th-January 13th
6:00pm-7:30pm
$900 ($50/Session)
HS players only
Mound
Velocity + Command. Learn to command the baseball while carrying over the high intensity from velocity training
Control what you can control…Executing quality pitches
Develop a quality pre-game routine that prepares you from pitch #1. "Third Inning Ready"
Develop a pre-pitch routine along with green, yellow, and red light routines.
Programs runs Mondays and Thursday January 18th-February 11th
6:00pm-7:30pm
$350 ($44/session)