Success in Sports - The Road from HS to College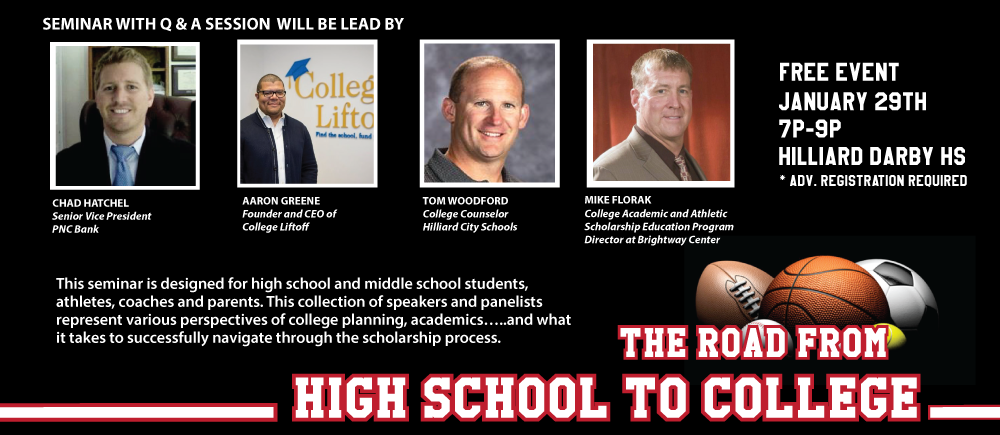 z
DESCRIPTION
Student athletes (and their parents) spend countless hours and invest significant dollars to work on their skill development, strength, speed, etc. When we talk to those athletes and parents after they have spent a couple of years at the college level they all say that they wish they had spent more time choosing the right major, choosing the right college and understanding the costs involved. This forum will be unbelievable for parents. As a parent you are a mentor to your students. To be able to get a candid perspective and have open Q & A with this panel of professionals will be a night you will most certainly remember.
This is an interactive evening to allow the audience to ask the questions.
Panel of Experts for Q & A
Aaron Greene
College Liftoff
Founder and CEO of College Liftoff, Aaron Greene, began the central Ohio-based college planning firm in 2009. Since then, College Liftoff has helped over 600 families across the country prepare for college academically and financially, saving them a combined $31 million.
Mike Florak
College Academic and Athletic Scholarship Education Program Director at Brightway Center
Mike currently works as the Director of Community Development at Franciscan University, teaches communication courses at Youngstown State University, runs baseball camps and clinics, and speaks at different venues across the country. After earning a baseball scholarship to Ohio University, and being drafted by the Seattle Mariners, Mike went on to coach four different college baseball teams.
Chad Hatchel
Senior Vice President – PNC Bank
Chad has spent his career in the financial banking and planning world. For the past 6 years he has been with PNC Bank. He is a Consistent financial sales leader. Responsible for recruiting, building, coaching, and developing high performing teams. PNC Bank offers a wide range of services for all our customers, from individuals and small businesses, to corporations and government entities.
Tom Woodford
College Counselor – Hilliard City Schools
Tom works with Hilliard City Schools students and parents through the college admissions process. He also facilitates all College Credit Plus partnerships. Tom has been in education for twenty five years as an elementary teacher and high school guidance counselor. During this time, he has also served as Head Girls Basketball coach at London High School and Bishop Watterson High School.
Who: This seminar is designed for high school and middle school students, athletes, coaches and parents. This collection of speakers and panelists represent various perspectives of college planning, academics…..and what it takes to successfully navigate through the scholarship process.
When: 7:00 – 9:00pm, Wednesday, January 29th.
Where: Hilliard Darby High School, 4200 Leppert Rd, Hilliard, Ohio 43026
What: Seminar Speakers with Question & Answer
Cost: FREE, but advanced registration is required