All-Sports Summer Camp 2021
home / Sports & Programs / Summer Camp / Summer All-Sport Camp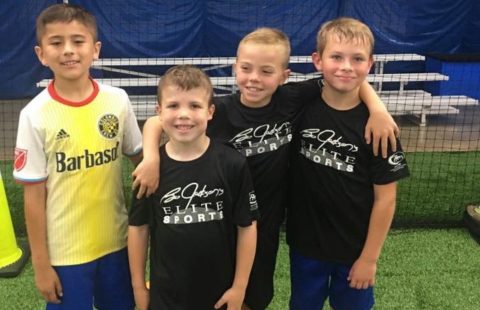 Weeks Available
Week 1 Jun 7th – Jun 11th – SOLD OUT
Week 2 Jun 14th – Jun 18th – SOLD OUT
Week 3 Jun 21st – Jun 25th – SOLD OUT
Week 4 June 28th – July 2nd
Week 5 July 5th – July 9th
Week 6 July 12th – July 16th
Week 7 July 19th – July 23rd
Week 8 July 26th – July 30th
Week 9 Aug 2nd- Aug 6th- SOLD OUT
Week 10 August 9th – August 13th- SOLD OUT
---
All-Sports Camp Offers Fun Summer Options For Boys & Girls Ages 5-13!
In today's fast-paced and competitive world, we hear the phrase, "Kids need some time to just be kids"…..and we agree! The All-Sport camps will give kids exposure to a variety of sports and activities with enough structure to keep them organized, but enough freedom for them to be creative and have some fun like "when we were kids!" BJES offers a professional and safe environment where a parent can be confident that their son or daughter will be monitored from check in to check out each day, and that they will be around positive people in a respectful atmosphere.
Our camp sells out quickly every year. Register early so you don't miss out on our best summer ever!
CAMP HOURS
Monday – Friday 9:00am – 4:00pm
Morning Sessions – 9:00am – 12:00pm
Afternoon Sessions – 1:00pm – 4:00pm
Full Day Sessions – 9:00am – 4:00pm
DISCOUNTS AVAILABLE

Discounts can not be combined.
EARLY BIRD DISCOUNT:
Register and pay in full by April 16, 2021 and receive a 10% discount!
SIBLING DISCOUNTS:
Register multiple children and receive 10% off the camp price for each additional child.
MULTI-WEEK DISCOUNTS:
Register your children in 3 or more weeks of camp and receive a 10% discount off each additional week.
MEMBER DISCOUNTS:
BJES Members receive a 10% discount off of each camp offer. Please contact our front desk at 614-528-4555 for this discount. It will not automatically be applied at checkout on the web site. Contact our front desk or email jfederle@bjescolumbus.com
PRICE

Half Day Price- $175
Full Day Price – $250
Weeks Available

Week 1 Jun 7th – Jun 11th – SOLD OUT
Week 2 Jun 14th – Jun 18th- SOLD OUT
Week 3 Jun 21st – Jun 25th – SOLD OUT
Week 4 June 28th – July 2nd
Week 5 July 5th – July 9th
Week 6 July 12th – July 16th
Week 7 July 19th – July 23rd
Week 8 July 26th – July 30th
Week 9 Aug 2nd- Aug 6th- SOLD OUT
Week 10 August 9th – August 13th
To Speed Up Registration…
IF YOU ARE REGISTERING FOR MORE THAN 1 WEEK OR ARE REGISTERING MORE THAN 1 CHILD PLEASE CALL THE FRONT DESK AT (614) 528-4555 TO REGISTER. THANK YOU.