Injury Checks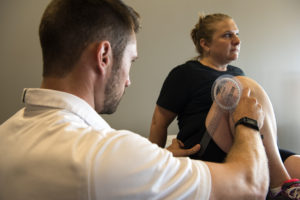 Medical professionals from The Ohio State University Wexner Medical Center are available at designated times to provide injury and preventive care to athletes that participate in activities at Bo Jackson's Elite Sports.
Injury checks are meant to provide immediate care to an injured athlete, to provide education, and to offer recommendations regarding referral to another provider, exercises to perform, activity modification and next steps. If you experience aches or pains before, during or after activity, Ohio State complimentary injury screens offer:
Free assessment by a licensed medical professional
Convenient scheduling
Personal attention to your health
Education regarding your potential injury
A streamlined referral process if further evaluation or treatment is needed
Peace of mind
A referral will be warranted if the athlete presents with a Red and/or Yellow flag symptoms, a chronic condition that warrants further care, positive body part specific screening, and/or an athlete has been seen >2 times during the injury screens.
Completion of the consent to treat form is required.