Frequently Asked Questions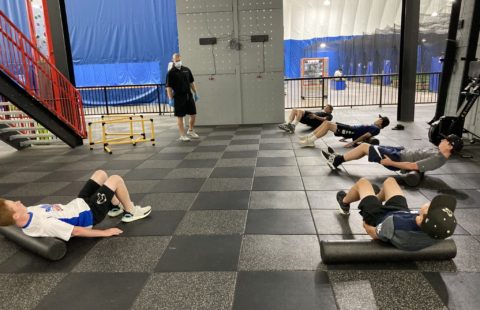 30 for 30
The Ohio State University Wexner Medical Center runs the Sports Performance Department at Bo Jackson Elite Sports.  We are offering a New Client Promo $30 for 30 days. This will take you through the first month of training. After your first month of training your next three months will cost a combined $400. After the completion of that plan you have many different options based off what fits you best. The rate for a year membership is $150 a month. The program will work on everything from speed, power, change of direction, and full body strength. Each athlete has their own program built for them to achieve their goals, the sessions will last one hour, and there will be up to ten individuals at a time.
As a first time guest, we would love to have you come in and see what you think. We have first time guest slots so you can meet our staff and perform an assessment. The assessment is FREE of charge. We have availability Tuesday and Thursday from 12-3pm, Tuesday and Wednesday at 6pm. The assessments will last about 45 minutes. What time works best for you to come in and perform an assessment?
What is the Cost?
The cost for your first month is $30, the following three months are a combined cost of $400. Once those three months are up there are multiple price structures:
Semi Private Membership:
Membership Pricing:
$150/Mo – Annual Commitment
$200/Mo – 6 month Commitment
$250/Mo – 3 month Commitment
$300/Mo – 1 month Commitment
Package Pricing (expires every 6 months):
1 Session – $50
10 Sessions – $400
20 Sessions – $700
Recovery Lounge:
Membership Pricing
$50/Mo- Essential Package (Limited to 5 Sessions per month)
$100/Mo- Elite Package (Unlimited access)
Session Pricing
20 Minute Session- $15/Member Pricing, $25/Retail Pricing
60 Minute Session- $28/Member Pricing, $45/Retail Pricing
Pro/College
Membership Pricing
$200/Mo – (Includes semi-private, plus access to normatech, game ready, and hypervolt. Pending availability. Must be scheduled)
*** BJES Members eligible for 40% discount on all semi-private offerings
What does a membership come with?
The semi-private membership comes with an individualized training program to help you achieve your goals. The semi-private membership will allow you to have free access to our specialty webinars and workshops throughout the year.
What equipment in the dome will I have access to?
At the Dome, we have access to turf fields, track, and a fully equipped weight room with Rogue equipment that includes power racks, dumbbells, kettlebells, sleds, and prowlers.
How many sessions will I have access too?
You will receive a recommended number of sessions per week after the assessment. The typical recommendation will fall between 2-4 sessions per week.
What will we work on during the sessions?
During the sessions we will do everything from speed, change of direction, power, mobility, and full body strength.
Can I bring in a group?
You may come in as a group. If you would like, the programs will be very similar to each other with small adjustments based off of your needs. We believe training with your friends and teammates is extremely important.
How many people per group?
There will be up to 10 individuals training at one time.
How long does a session last?
Sessions will last one hour.
What times are available for assessments?
During summer:
Tuesday and Thursday from 12-3pm, Tuesday and Wednesday 6pm. The assessment will last about 45 minutes.
During school:
Monday through Thursday at 5pm.
Am I required to sign up after the assessment?
You are not required to sign up after the assessment. The assessment is 100% free for you with no commitment.
What times are available to schedule a training session?
During summer:
Training times
Monday- Thursday: 11am, 3pm, 4pm, 5pm
Friday: 10am-3pm
During School:
Monday-Thursday:
Training times:
4-5pm
6-7pm
7-8pm
Friday:
4-5pm
Can I schedule same day?
You may schedule same day if it is just an adjustment of training days or training hours.
During summer:
To adjust your schedule on the same day, you must make the adjustment by 10am for a morning session. For an afternoon session, you must adjust your schedule by 12pm.
During School:
During the school year you may make same day adjustments by 3pm.
Can I cancel my membership?
You can cancel your membership but you will be charged based off of what membership you would fall into. For example, if you sign up for a year membership then cancel after two months, you would be required to cover the cost of a three month membership.
How are training sessions divided up?
Training sessions are divided up by age group. We want athletes to train with athletes in their age range. Our age groups are 11-14 and 15+. To determine the ideal group for the athlete we take training age into consideration.
Is my child too young to train?
Semi Private Training is meant for athletes eleven and older. Training is very similar to a slow cooker. The best results will come from starting early and training for years so your body continues to develop as you mature. Training at a young age is the start to learning the movement patterns then once it can safely be done, weight will be added. The first priority is always the safety of the individual.
What if I work out at school?
We can make any adjustments that are needed so athletes can safely do both. We will create a program that helps you to reach your goals.
Are more training sessions better?
More is not always better, the top athletes in the world train between 2-4 days a week. Once we discuss your goals and perform the assessment we will have a better idea as to how many days a week to train.
Why would I come to train at Bo Jackson Elite Sports when I could create my own performance pathway?
At the Bo Jackson Elite Sports our staff spends their day researching, training, and learning about all the subject matter that is part of Peak Performance. We have experts in the field of training, recovery, hydration, nutrition, sleep, and the mental side of athletics.
What do we receive for this price?
Your membership will give you access to many professionals who want you to reach your goals. We want you to receive as close as possible to the same experience elite level athletes have.
Should I always be sore?
There will be days you are not sore after training. That is a good thing, your body is becoming used to training. If you are sore every day that means the recovery side of your peak performance pathway will need more work.