home / Sports & Programs / Cangelosi Baseball / Spring Training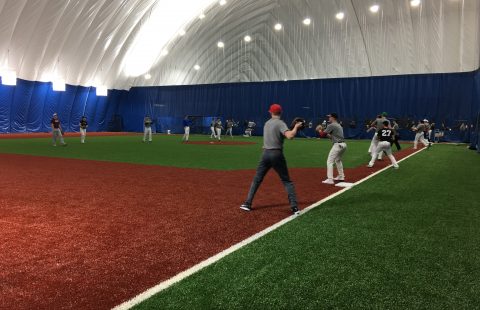 Program Description:
This is the time of year that every Major League player reports to Spring Training to prepare for opening day and a long season. At Cangelosi Baseball we designed Spring Training to cover all aspects of the game and get you prepared to compete as a complete player! Spring Training provides you the unique opportunity to hit live pitching, and see the flight of the ball off the bat before opening day.
Program Features:
Covers all aspects of the game to prepare you for your season
Progression of training sessions leading to live on-field hitting
Hitting instruction with Cangelosi Baseball Staff
Throwing program to develop proper throwing mechanics for all positions
Baserunning instruction and drills
Speed & Agility Training 
Program Format:
40 minutes of in-cage hitting instruction
40 minutes of sports performance training
40 minutes on-field drills and game situations 
Ages: 9-14 years old (players will be divided by age and skill level)
Dates: Tuesdays, March 8, 2022 – April 26, 2022 (8 weeks)
Time: 6:00pm – 8:00pm
Price: $375