About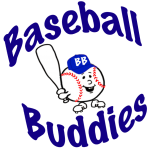 About the Program:
Designed For Boys & Girls Ages 3-5 Year Olds
Intro To Fun Baseball Skills And Functional Movement Development
Participants Receive A Baseball Buddies Shirt & Prizes
Baseball Buddies is a program that promotes physical literacy in younger children by integrating basic fundamental movement skills (FMS) and fundamental baseball skills (FBS).  "Physical Literacy" is defined by Project Play as "the ability, confidence, and desire to be physically active for life". We cover locomotor movements (running, skipping, jumping) stability skills (ability, balance, coordination), object control (throw, catch, strike) and awareness (spatial, body, rules).  The program helps children to move more confidently and efficiently with a range of baseball-themed, physical activities!
"Play is often talked about as if it were a relief from serious learning.  But for children play is serious learning.  Play is really the work of childhood."
– Fred Rogers